General Ledgers
General ledgers are accounting documents regrouping financial transactions per account (clients, suppliers etc.), as opposed to chronological listing in journals.
General ledgers from the Gand, Bernardel, Caressa and Français collection cover years 1816 to 1923 in a quasi-continuous manner. Only years 1831 to 1839 are missing.

They were completed as needs occurred, and accounts are not in a logical order. One must refer to the directories index to identify all pages or folios
Example of a General Ledger
General ledgers page layout evolves throughout the years, but their structure generally remains similar to the following: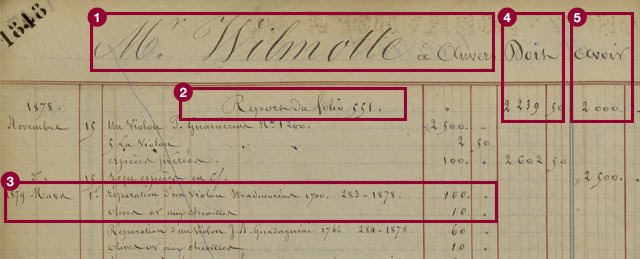 1- Account holder
« Mr Wilmotte à Anvers »
"Mr Wilmotte in Anvers"

2- Report
« Report du folio 551 »
"Report of folio 551"
When an account covers several pages, sums previously recorded
as debit and credit are carried forward to locate the latest
entries.

3- Detail of transactions done by or for the account holder
« 1879 Mars 1er : réparation d'un violon Stradivarius 1700. 283 – 1878. 100 [F.] / Olives or aux chevilles. 10 [F.] »
"1st March, 1879: repair of a Stradivarius violin 1700. 283 – 1878. 100 [F.] / Gold adornments added to tuning pegs. 10 [F.]" 

4- Account Debit
« Doit : 2 239,50 [F.] »
"Due: 2 239.50 [F.]"
This column records sums paid in advance by the workshop as well as services
or products received by the client and not paid yet.

5- Account credit
« Avoir : 2 000 [F.] »
"Credit voucher : 2 000 [F.]" The column totals sums paid by the account holder to the workshop.